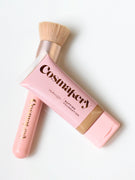 Getting Started Buffing Set
Our Best Selling Buffing Foundation with our Buffing Brush in a Bundle!
Getting started buffing set
I had a very difficult time using the product. It was very thick and the brush did not allow me to blend it. I finally just use my fingers which worked much better.
Cost
The product is fab looks good on and is easy to apply. But the price puts a stop to it. That's a small amount for $60. Just sayin'
Great product!
The product is great! The consistency and coverage are the best I've used hands down, and the brush blends it perfectly. I like that it doesn't hide my freckles, but it still covers up unevenness and redness in my skin.
There are a few things I would change to make buying experience even better.
Here are a few suggestions:
1. Change the container. It works fine, but it's plastic and difficult to get out the last few drops.
2. Offer more shades.
3. Give the ability to return/ order samples. If someone wants to try it they might be hesitant about the price and refund policy.
Foundation
I got the light medium shade and absolutely love it! This foundation is SO MUCH BETTER than my Estée Lauder Double Wear!! I highly recommend this product!
Best Cosmetic Brand
I'm so glad I stumbled across the brand! I've got some autoimmune issues and I'm allergic to many products and have to be very careful about ingredients. When I came across this brand, I was eager to snag some clean makeup and hoped it ticked all my boxes. It did and exceeded my expectations! I do have blemishes and uneven skin tone and I am obsessed with the kit. The foundation brush isn't my favorite because it's not dense enough for my liking but no worries there. It may be perfect for other people! The products go on beautifully and last all day! My skin hasn't broken out. I've placed another order and I'm enjoying all my products! Well done on a great line of items! Will be buying more and supporting this brand!
Goes on smoothly and covers
Goes on smoothly and covers well. Definitely will be reordering again.
Great coverage
Great coverage- not heavy