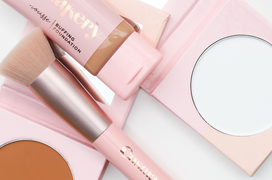 Using a palette of curated universally flattering high-quality products and proven application techniques, we help you create effortless fresh glowy looks that will enhance your natural beauty and last all day long no matter the occasion.

Our products are intended to keep your beauty regimen sweet and simple. We create easy-to-use kits and sets for everyday purposes, allowing you to apply high-quality makeup without over-complicating your life or morningroutine with unnecessary steps.
Achieve that perfect, soft glow
Cosmakery brings pro makeup artistry out of the studio & into your makeup bag.
Brand Story
I'm Janelle Thomason, the maker/founder behind Cosmakery and an EMMY® Award-Winning Makeup Artist. I have been working in the makeup industry for almost half of my life. Throughout the years I have worked as an artist at cosmetic counters, on television sets, photoshoots, bridal, to owning my own makeup studio where my artistry team & I do makeup on thousands of women yearly. I've done makeup for super moms & supermodels – you name it.

After years in the industry working and training under some of the best makeup artists of our time such as Mario Dedivanovic and Scott Barnes, I decided to follow my dreams and open up my own makeup studio. In 2010 I opened up The Makeup Loft, our studio is located in a chic little town in Michigan called Plymouth.

It was here while working on thousands of brides and bridal parties where I started to hear over and over again "I wish I could look like this every day" or " I wish I could take you home with me." After five years of owning my studio and hearing this repeatedly my response was I have heard you and I have created Cosmakery for YOU!
It's through my years of doing real women's makeup that gives me the ability to create cosmetics that not only perform but are universally flattering and easy to use.
Using my combined wealth of knowledge, experience and expertisein this area I created Cosmakery. I put extreme detail into every shade and formula keeping it clean, cruelty-free with serious performance!

Every single product that I have ever created has an intentional purpose and reason behind it. Let's take our foundation for example.There is not a foundation on the market like ours. Don't believe me? Try it for yourself. Our foundation does everything everyone has always wished their foundation could do. It has a whipped moussetexture; it's not a liquid or a powder. It contains a hydrating, flawless finish with a silk like texture making it easy to glide onto the skin via our buffer brush. Our foundation, unlike other brands, floats on top of the skin and does not settle into fine lines or pores giving you a beautiful airbrush polished look. For these reasons and more it has been our best seller from the start.

For each product that we offer I offer tips and tricks of how to apply them easily to create a flawless look every time. You can find these over on our Youtube channel.

I'm proud to say that we exclusively use Cosmakery products on every client that walks through my makeup studio and they always love their final look. They trust me and my products on one of the mostimportant days of their lives, their wedding and that means everything to me. Now when my makeup clients tell me "I wishI could look like this everyday", my response is you can and it's called Cosmakery.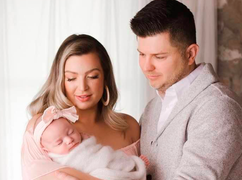 Owning two businesses while also being a mom isn't always easy but hearing how I make people feel whether at my studio or through using Cosmakery products makes it all worth it.

Thank you for your continued support and loyalty. It means the world to me and my little family.

Cosmakery prioritizes female empowerment & celebrates every woman.
Unlike some of the biggest names in the beauty industry, Janelle owns 100% of her company. Cosmakery was entirely self-funded through years of hard work and makeup applications, not fueled by faceless corporations.

Janelle uses local female-owned businesses whenever possible for graphic design, accounting, copyrighting, manufacturing, and more. Just like Janelle, many of the women that work for her are moms. "We get work done in between naps, play dates and feedings."
- Janelle Thomason
We are passionate about supporting our communities and giving back whenever possible to female centric charities one of them being the Freedom Sparrow Project. Freedom Sparrow Project supportsand empowers individuals who have been exploited and trafficked by helping them achieve independence through services and prevention.

If you are interested in learning more about Freedom Sparrow Project and their mission or ways to get involved you can check them out at https://sparrowfreedomproject.org/

Our products are free from Parabens, Sulfates, Fragrance, Mineral Oil, Gluten & Lead. We never test on animals and our brushes are free from animal hair.
Our Values
Simple- We have taken the guesswork out of choosing makeup by offering pre-curated palettes, shades and foundations that are universally flattering and work for all skin types and ages.
Quality- We only use high-quality, trusted ingredients that won't break out your face, feel good, and provide serious performance.
Clean & cruelty-free- Our products are free fromParabens, Sulfates, Fragrance, Mineral Oil, Gluten & Lead. We never test on animals and our brushes are free from animal hair.
Community- We have a relationship with our customers, we hire local female entrepreneurs whenever we can and we give back to local female-centric charities.